MINUTEMEN CONTINUE
BUILDING BORDER FENCE
A Successful Start on a Security Fence
Chris Simcox has kept his promise and volunteers have begun building the Minuteman Border Fence. The successful groundbreaking was held in Arizona on Memorial Day weekend, as President Bush refused to immediately deploy National Guard and reserve troops to secure America's out-of-control southern border with Mexico.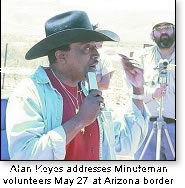 Hundreds of volunteers—along with Minuteman Founder Chris Simcox, Ambassador Alan Keyes, Congressman Steve King, AZ gubernatorial candidate Don Goldwater, WeNeedAFence.com founder Colin Hanna and AZ Congressional candidate Randy Graf—dug holes, mixed concrete, put up fencing while opposition groups jeered and skeptics said it could not be done.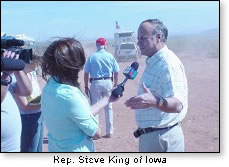 Now MCDC continues with dedicated volunteers, engineers and contractors using LEGAL crews to work with local Arizona land owners in building mile after mile of border security fencing on private land along the border with Mexico. The first site is 10 miles long and the first 2.5 miles of Minuteman Border Fence already has been completed.
How can You Help?
Build the Minuteman Border Fence by sending donations and volunteering to participate in making the US border secure.
Donate to Build the Minuteman Border Fence
https://secure.responseenterpries.com/mmfence/?a=571
VOLUNTEER to Build the Minuteman Border Fence
https://secure.responseenterprises.com/mmfence/registration.php/?a=571
Sign up as a volunteer and get access to the "Minutemen Border Cams" an active web based surveillance link on the fencing project. The Minuteman Border Fence is placing cameras which will be monitored via computer over the Internet by registered Minutemen across the country, so that Minuteman volunteers can observe and report illegal crossings from the computer in their living rooms 24/7.
The Border Fence is already making a difference.
Local reports indicate that drug and human trafficking has already been reduced. There are fewer vehicles in the area where the fence is under construction—proving again that having a presence and taking positive steps to do SOMETHING to secure the border reduces the flow of illegal aliens, potential terrorists, drug and human traffickers, murderers, rapists and thieves in these areas.
More than 1,500 have volunteered to build the fence.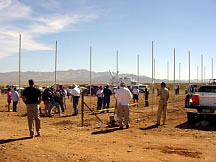 Planning and organization continues as volunteers, materials and contractors are being coordinated in an unprecedented alliance with over 1,500 Minuteman Border Fence volunteers. In the true spirit of the Minutemen of the American Revolution these patriots have joined together to form an army of volunteers to secure our borders and protect America's sovereignty, security and prosperity.
"The undertaking is monumental and historic" says Chris Simcox.
MCDC is beginning construction of the Israeli-style border security fence at a second ranch location in early July and later in the year in TX, CA and NM as more resources are marshaled. Two fencing companies that hire legally have been retained to run the jobs sites and coordinate volunteer construction crews as Minutemen volunteers are scheduled to provide labor and security. Crews of four to ten volunteers under the guidance of professional fence installers can install as much as 3 miles of fence in a week.
The reality is the Minutemen are here to stay. In April of 2005, over 800 volunteer men and women took action to secure the border. This year there are more than 200,000 Minutemen activists not only guarding the border but building fence, faxing our elected representatives, making phone calls, voting open border politicians out of office, starting local chapters and contributing their time, money and expertise. MCDC is an explosive grassroots effort enjoying the energetic support of political Democrats, Republicans and Independents—all American patriots who have earned the trust of the public by keeping our word to remain vigilant until our borders are secure.
A Comprehensive Design
By working with and talking to the ranchers and Border Patrol agents that live and work in this virtual war zone we have learned that no single design or deterrent will be 100% effective. A variety of designs and support structures are needed to meet local security needs.
A physical barrier capable of stopping people and vehicles has been designed to fit the terrain. It is also a visual deterrent that cuts illegal crossings by 95% or more. The security fence will not be easy to compromise by climbing over with a ladder, cannot be cut with wire cutters, breached by ramming with a vehicle, or tunneling under undetected. No fence can be a 100% impenetrable barrier—but it is a good design and will be time-consuming enough to get through that Border Patrol agents can be alerted and respond before the incursion can be completed.
Our fence plan will keep costs near $150 per foot.
The fencing will be built on private land with privately donated funds, engineering and labor. Its construction will serve as an example to educate the public about the feasibility and efficacy of fencing to secure America's borders from illegal invasion by aliens and international criminal cartels. An IRS-authorized charitable non-profit organization is facilitating and administering donations for construction of the fence. Monetary and in-kind contributions for this effort will go directly into meeting hard costs such as building materials for this private fencing operation.
We have a monumental challenge ahead to raise $55 million. We urgently need your help for this effort to succeed. With your help MCDC can make America more secure by continuing to urge citizen volunteers to support the Minuteman Border Fence.
Be sure to send this to EVERYONE you know who wants to help STOP illegal aliens at the border! Thank you!
Donate to Build the Minuteman Border Fence
https://secure.responseenterpries.com/mmfence/?a=571
VOLUNTEER to Build the Minuteman Border Fence
https://secure.responseenterprises.com/mmfence/registration.php/?a=571
Go www.minutemanborderfence.com and join with us TODAY .
Sincerely for America,



Chris Simcox, President
Minuteman Civil Defense Corps